Bowman Lake Row and Hike Trip
Glacier National Park
July 27, 2011
Contact me (garya at this domain) if you want the really good image
Dona and I got a new boat, a Vermont Fishing Dory, this spring. It's our "Hunky Dory;" we've used it a few times for short day spins around local lakes, but one of the reasons we purchased it was to take some longer trips. We've been wanting to explore some of the lakes on the west side of Glacier National Park, and we finally got around to it.
Sometime while packing or on the way up to the park, the sun came out and Dona took a picture of a big moth on a flower. That was a good sign.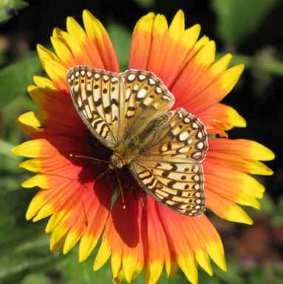 Moth on Flower
Photo by Dona
You need a permit to camp at the upper end of Bowman Lake, as there are a limited number of campsites. Half of them are reserveable, and the rest (3) are first-come, first-served on the day before or the day of your trip. We got a late start, so spent the night at the Apgar campground in the park. On the way in we realized I was now 62, and elegible for my lifetime geezer parks pass, so we picked that up. Yippie! That's the best bargain in the world.
The next morning we got a permit for two nights, so we drove up to Polebridge and on to the foot of Bowman Lake, where we unloaded, packed up, and headed off up the lake under cloudy skies.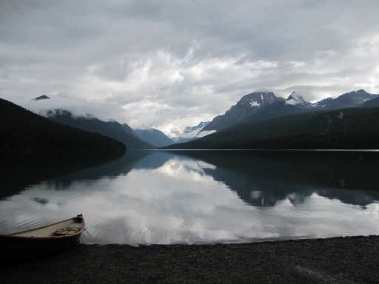 Looking Up Lake from Put In
Photo by Dona
We had a jury-rigged sailing rig I grabbed from a previous canoe trip, usable for downwind only but better than nothing. We had the sliding rowing seat installed, as Dona wanted to row and that's her favorite way of doing it. We brought the regular middle seat along just in case we wanted it for something else, as this was our first overnight with this boat.
Our waterproof gear bags aren't well adapted for this boat, so we will have to buy or make some additional ones. In particular, we would like some that fit under the end seats and along the sides without interfereing with the sliding seat. Or else we need to figure out a better way of packing. In any case, for this short trip we had a big orange Bills Bag with sleeping gear, clothes, and the tent; and a smaller blue Bills Bag with cooking gear, food, and miscellaneous camp stuff. Plus a day bag for each of us. We also brought a bear-proof food barrel, which is a pain in the butt to open and which we didn't need because the Park Service has installed a food hanging bar at all the back-country camps.
Dona rowing up Bowman Lake
Makeshift sailing rig tied to the gunwhale on the left
Dona rowed up the lake while I lazed in the back of the boat pretending to fish. I stood up and tried a little harder when we came to a creek that dumped into the lake, but I never did any good.
View from Boat
Photo by Dona
Gary getting a free ride
Photo by Dona
Looking up the lake
Photo by Dona
We criss-crossed the lake a few times, as I kept seeing what looked like bigger creeks on the other side. There aren't many good lunch stops on the lake, but we found a reasonable one where one of the larger creeks comes in.
One of many creeks
Emptying into Bowman Lake
Motor on Strike
Right after lunch, the afternoon wind came up. Dona relenquished the middle seat and I stepped the mast, hoisted the sail, and away we went. We flew down the last third of the lake in short order and pulled up at the campsite.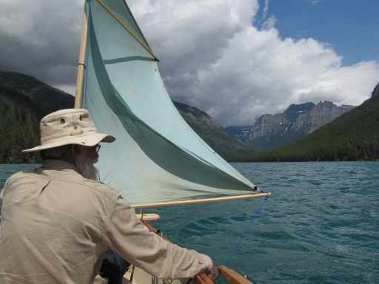 Sailing
Photo by Dona
There was one party already at one of the campsites, an older couple with two of their grand-kids. We found a snug tentsite and hastily put up the tent, as it looked like the wind was increasing and bringing some rain with it. But the rain didn't amount to much, and the squall blew through in a few minutes. The sun came out off and on, and we wanted to do some hiking. There are only two trails from the camp -- one goes back the north side of the lake to the foot of the lake, where we started; and the other goes up to Brown Pass. We headed up the trail toward Brown Pass to see what the first part of it was like, as we planned to hike all the way up the next day.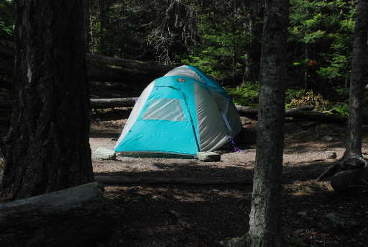 Tentsite
The camp isn't quite at the end of the lake. The very end of the lake is closed to visitation, as there is (or was, once upon a time) a bald eagle nesting site there. The tree with the nest blew down some time ago, and we didn't see any eagles, but maybe they are still around at some other nearby site.
Trail to Brown Pass
View from near Camp
Pink Pyrola
Photo by Dona
| | |
| --- | --- |
| | |
| Creek | Head of Bowman Lake |
By the time we got back, the camp was mostly full. Everyone else had hiked up from the foot of the lake. We were a bit wet from our hike right after the rain, and Dona had slipped and fallen in some mud, so after much effort we got a fire started which was appreciated by everyone. We fixed dinner and sat around the fire talking with our neighbors and drying our shoes and socks. I managed to burn the top of one of mine... grrr...
The next morning we headed back up the trail toward Brown Pass. The first thing we encountered was a ptarmigan sitting in the middle of the trail. It didn't want to move, and we got about five feet from it. So I took its picture, then moved closer to get it to move off the trail so we could go past. At which point it stood up, and four tiny feather-balls about the size of ping-pong balls appeared. Unfortunately, I wasn't ready with my camera. Mom ran off doing the injured bird decoy routine, and we tried to skirt wide. The little chicks ran around like crazy but we managed to get past them and hopefully they all got gathered up again and off the trail to a safer place.
Ptarmigan
Creek
Photo by Dona
After a few miles we came to Bowman Creek, at a place where there used to be a bridge. The bridge was washed out this spring with all the high water. The creek wasn't particularly intimidating, and it had a lot of logs across it, so we picked one and made our way across.
The scenery was eye-popping. Snowfields on all the peaks, and it seemed more the way I remember the mountains being when I was little. Back then we always ran into snow on hikes.
| | | |
| --- | --- | --- |
| | | |
| Unnamed Peak | Bowman Cr. & Mt. Carter | Dona Crossing Bowman Cr. |
Once we got across the river we found some pretty big trees that had been felled and peeled and were going to be used for the replacement bridge. I'm not sure exactly what they are doing, but judging by what we saw it is going to be pretty beefy. I think it is going to be a suspension-type pack bridge, as they were making some big log "houses" that looked like they would be filled with rocks and used as bases for towers to support the cables.
| | | |
| --- | --- | --- |
| | | |
| Logs for Bridge Landing | Piers for cable support | Piers for cable support |
Dona was having trouble with her ankle, so we stopped for lunch in a dry creekbed, where Bowman Creek used to run and with a nice view.
Monkey Flower
Photo by Dona
Alpine Fireweed
Photo by Dona
Rhexia Leaved Paintbrush
Photo by Dona

Photo by Dona
Mountains
Photo by Dona

Photo by Dona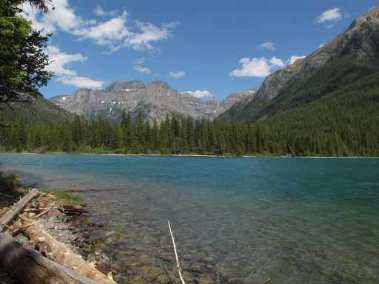 View from back at Camp
Photo by Dona
A guy named Matt from one of the other parties at camp arrived who was also heading for the pass. Dona headed back and Matt and I headed on up the trail to Brown Pass. The timber started thinning out and I started getting more views of the surrounding mountains and the multitude of waterfalls cascading off of them.
On the map there is a small lake called Pocket Lake in a cirque up one of the tributaries to Bowman Creek. I couldn't really see the lake, but there were two wonderful waterfalls cascading down the cliffs from it.
| | | | |
| --- | --- | --- | --- |
| | | | |
| Bowman Peak and Pocket Creek Falls | Pocket Creek Falls | Bowman Peak and Pocket Creek Falls | Looking Northwest over Bowman Creek |
Everywhere you looked, you saw mountains with big snowfields; everywhere was the sound of water; and every vertical surface was graced with waterfalls.
| | |
| --- | --- |
| | |
| Pocket Creek Area | Waterfalls |
| | | | |
| --- | --- | --- | --- |
| | | | |
| Chapman Peak | Mt. Peabody | Beargrass | Thunderbird Mt. |
The wildflowers were out in force, doing their best to get noticed and polinated before fall arrived.
Xxx Flower
Xxx Flower
Moth on Showy Fleabane
Showy Fleabane
Woods Forget-Me-Not
Columbine
Some kinda Penstemon
Strawberry
Beargrass
Beargrass
Rhexia-Leaved Paintbrush
Sitka Valerian
Xxx Flower
As we gained altitude, we finally got to a place where looking back we could see a little bit of Bowman Lake.
| | | |
| --- | --- | --- |
| | | |
| | Looking Southwest towards Bowman Lake | |
But there was still more altitude to gain, more waterfalls on the trail ahead...
| | | |
| --- | --- | --- |
| | | |
| Waterfall | Thunderbird Mt. | Looking West |
...and more wildflowers.
| | | |
| --- | --- | --- |
| | | |
| Xxx Shrub | Xxx Flower | Globe Flower |
| | | |
| Shooting Star | Glacier Lily | Spring Beauty |

Looking West
We hit snow just before Brown Pass, and it looked like a bomb had gone off. There were smashed and ripped up trees everywhere, along with hunks of rock. Winter avalanches had trashed things pretty badly.
| | |
| --- | --- |
| | |
| Snow at approach to Brown Pass | Glacier Lily |
| | |
| Brown Pass | Thunderbird Mt. |
We stopped at the pass for a bite to eat. Unfortunately, we didn't have much of a view down the other side due to the forest of thick stunted trees. But the view of the mountains around made up for it. I was hoping to see more wildlife on the hillsides above the pass, but we were disappointed. They looked like they should home to mountain goats and bighorn sheep; they probably are at other times of the year. We didn't see any bears or bear sign; maybe they were all down on the east side gorging themselves on lowland goodies.
| | |
| --- | --- |
| | |
| Matt at Brown Pass | View West from Brown Pass |
| | |
| Lower Thunderbird Mt. | Lower Thunderbird Mt. |
| | |
| Chapman Peak | View from Brown Pass |
Then we headed back down. I motored, while Matt took his time and made good use of the afternoon light for pictures.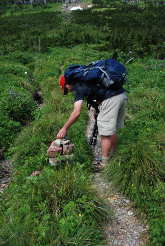 Matt appeasing the Mountain Gods
adding a rock to a Cairn
| | | | |
| --- | --- | --- | --- |
| | | | |
| Water going over Ledge | Trillium | Rhexia-Leaved Paintbrush | Red Squirrel |
| | |
| --- | --- |
| | |
| Pocket Cr. Falls | Pocket Cr. Falls |
| | |
| Pocket Cr. Basin | Pocket Cr. Basin |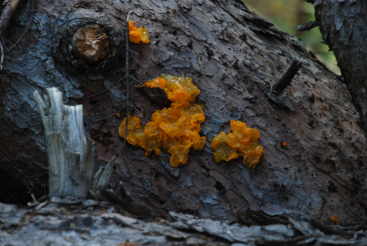 Fungus
When I got down to Bowman Creek, I decided to wait for Matt. The mosquitoes were pretty thick, so after a while I started an experiment. I consciously tried to kill all of the ones that landed on me, and after about 15 minutes they were pretty much gone. I'm not sure what that means, but it was a nice discovery.
When I looked up after dozing off, I was surprised to see a Pine Martin hopping across the dry creek bed (The creek had gotten tired of its last home and moved.) with a small snowshoe hare in its mouth.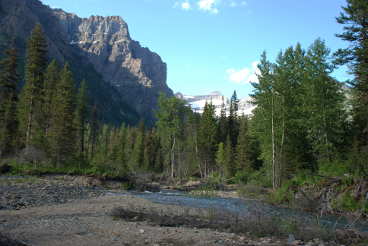 Bowman Creek
Somewhere before we reached camp, a nice buck appeared in the trail in front of us. We stopped still and it almost walked over us. I tried taking a picture but couldn't get my camera to focus. I discovered afterwards that the cover to the battery compartment had fallen off somewhere. Because of the way I carry the camera, the battery was still there. So I could operate it if I held the battery in with my thumb. But that was pretty awkward, and I informed Dona she was the only official photographer from that point on.
After a good night's rest, we headed home the next morning. We were hoping to get away before the wind came up, but it was blowing already when we got up. So we hugged the short and took our time, crossing the lake once to get more shelter on the south shore.
Dona Rowing Home
View from Lake
Photo by Dona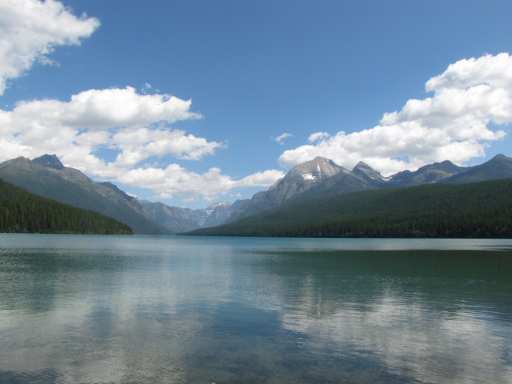 Take Out
Photo by Dona
All-in-all, a great way to start the boating season!
---