A Visit with Hadza in the Yaeda Valley, Tanzania
A Simple Life with Immediate Concerns
February, 2014
Click on any image for a larger view;
Contact garya at this domain if you would like the high quality image for printing
We left the Nou Forest Reserve some time in late morning, working our way northwest across the Gregory Rift. Our final destination was the Yaeda Valley, and a chance to visit with some Hadza hunter-gatherers. We stopped for a picnic lunch in a place which I have no idea where it really was. It was pleasant, and had birds to entertain us. With a picnic blanket spread out on the ground under an acacia tree and food on a table we felt almost like we'd stepped back in time.
Flower Xxx Orange
Photo by Dona
Flower Xxx Pink
Photo by Dona
Lunch Stop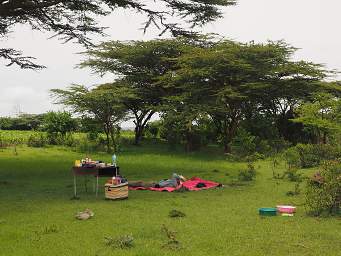 Lunch Stop
| | |
| --- | --- |
| | |
| Lunch | Lunch Washup |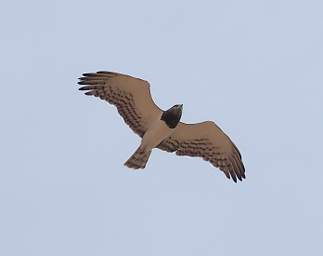 Black Chested Snake Eagle
After lunch we continued on, not knowing what to expect. Things are definitely looking up, I thought, as the roads steadily deteriorated. We tilted down off the rift, the cobbles in the road got bigger, and I was spending a fair amount of time bracing myself as we bumped along. Douglas said it had rained a few days earlier and was a little concerned about how high the water would be in the one river we had to cross. We bumped and rattled along, setting speed records for turtles, slowing to not much at the many heavily eroded spots. Occasionally there would be a flat stretch that was actually smooth, and we would zoom right along for a short bit. One thing kept popping into my mind over and over -- "This place is hard on tires." The piddly tires we buy here in the states wouldn't last very long out here.
Typical Road Coming Off Gregory Rift
We didn't see a lot of wildlife, although we did catch up with a nice Red-headed Rock Agama on one corner where we stopped to enjoy the view.
| | |
| --- | --- |
| | |
| Red Headed Rock Agama | Traffic |
As we traveled Douglas explained the problems the Hadza faced, primarily a result of encroachment on their lands by farms -- essentially the same problem the Maasai face. The Hadza are fortunate in that Tanzanian laws and the constitution recognizes their right to sustain themselves via their traditional lifestyle on a particular piece of land which they have historically used. On paper, at least, that means no development within that area, and in particular, no farms. If you support yourself via hunting and gathering, you need a natural landscape that can support the animals and plants that in turn support you. That landscape has to be relatively large in this dry piece of eastern Africa, and you can't afford to have the best ground swallowed up by farms. We passed several places where new farms were being established in pretty marginal country -- dry, rocky country, with little topsoil -- places no one in their right mind would try to farm unless they were between a rock and a hard spot -- which these people clearly were.
We passed some stone / cement markers and white posts, which Douglas explained were boundary markers for the Hadza's territory. The markers were new; not all of them had been put in yet. Douglas had explained earlier that Dorobo had helped the Hadza get legal protection for their lands, and was still working to make sure that land stayed protected.
As we got to the bottom, the road changed from rock cobble to clay, and the terrain went from rough and tumble to pretty much flat. Really much flat. Flat and bushy as heck. You could see how a heavy rain would make this a place to have some kind of transportation other than a wheeled vehicle. The ruts in the roads turned to small canyons, and occasionally large ones.
Typical Road
Eventually we came to a small village with a school. There was a truck with come survey equipment in it parked nearby, down by the river, and Douglas recognized one of the people as someone Dorobo worked with, so we stopped to say hello and catch up on the local news and any information they might have about current conditions and the recent rains. The truck crew were working on the boundary markers.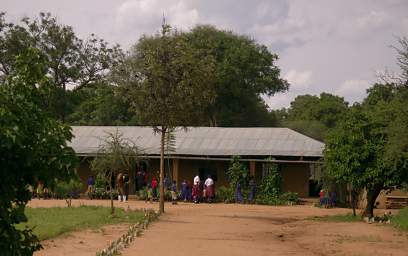 School
After a long chat we continued on, crossing the river by the village via an actual concrete ford with a concrete base and some culverts for the river, at least during low and moderate water conditions. There was a fair amount of branches and sticks piled against the upstream side partially blocking the flow, debris washed down from the recent rain.
| | |
| --- | --- |
| | |
| River | Good Ford |
A ways on we came upon a lone man walking down the road, carrying his bow over one shoulder and something else wrapped up in his "tummy roll" under his shirt. At the same time we spied some bright red birds just off the road, so we pulled up to take pictures. Douglas said hello while Dona and I took pictures of birds. I now know that you don't just stop and ask a question; it's impolite. You stop, say hello, ask how everybody is, compliment on anything that seems appropriate, discuss the weather, crops, and where everybody lives. Eventually it's ok to ask what you really wanted to know. It's not a quick process but it's wonderfully informative, and it helps people learn they have things in common and that everyone who isn't just like you isn't a demon. It strikes me as a great way to promote an overall civility, something westerners like us could use, and something I hope I can remember to practice. The man with the bow was of mixed descent, Iraqw and Latoga. He was on his way home. How long and how far he'd been gone I didn't find out. He seemed happy to be walking down the road, however far he had to go.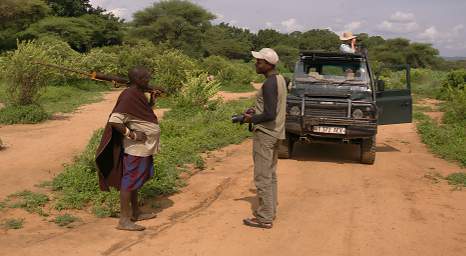 Traveler
Bird Southern Red Bishop
Douglas explained the village we had stopped in was inside the Hadza people's land, but they had come to an agreement which I think limited the extent of the village and restricted where surrounding farms could be located. It served as the nearest emergency medical center / medical contact point, trading post, and a place to pick up a ride on the few occasions when one of the Hadza needed one. We passed a few small sustenance farms as we left the village.
| | |
| --- | --- |
| | |
| Plowing | Herders On Road |
We came across some weaver nests that looked like they had just been completed, and then found a weaver still working on one.
Weaver Nest
Vitelline Masked Weaver
Photo by Dona
And then a bird with one of the weirder hairdos I've seen. It looked like he'd spent hours working on it; maybe he had.
Usambiro Barbet
Photos by Dona
We worked out way through the bush, past more weaver nests for some different species, enjoying the strangeness of the terrain and the birds we encountered along the way.
Weaver Nests
Photo by Dona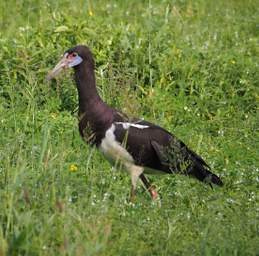 Abdims Stork
Photo by Dona
We came out onto the open valley bottom, where herders were looking for better grass.
| | |
| --- | --- |
| | |
| Herders | Herders |
We were visiting just after the short rains, and it was greening up all over. But it's clearly dry country. Really dry. I noticed that most of the herders we saw had at least one animal packed with jugs of water.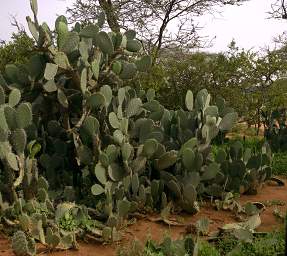 Prickly Pear
It doesn't just dry up the way we think of it during a dry summer at home when we get little rain for the summer months. It totally dries up, with no rain for months on end. The leaves shrivel, the grass turns brown, and the shrubs and trees look dead. The water holes dry up; animals that can range far and wide, or leave the area entirely in search of food and water. If a fire starts, it rages across the parched landscape. And then, for a few short periods every year, it rains. It had rained a few times in the previous week or so, and soon there was more evidence of it.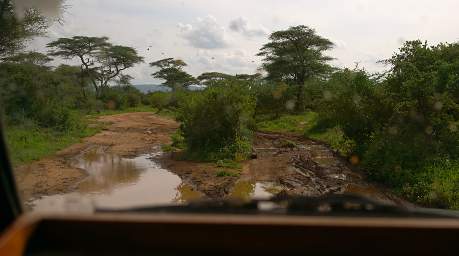 Road After Rain
Roads, and a Relatively Lush Landscape, after the Short Rains

Douglas had told me that Dorobo pretty much uses only diesel powered Land Rovers. They are, or were, a British made exploration vehicle, but the company, Jaguar Land Rover, is now owned by an Indian company, Tata Motors. The Land Rover is a constant four-wheel drive vehicle, and the range gearshift has four positions -- hi, hi-diff-lock, low, and low-diff-lock. Diff-lock is a differential lock, which locks the differential so one wheel can't spin by itself. You can do a range shift on the fly, and we made good use of it when we hit the wet spots. It's getting difficult to get parts for the Rovers, and many of them are no longer the good British ones, but are cheap Chinese replacements that don't hold up. They've tried a few Toyota Land Cruisers, but their experience has been they don't hold up as well. I don't know one way or the other, but our Rover had clearly been put through its paces and come through with flying colors, and we were glad to be in it. It may have been old and beat-up looking, but it got us everywhere and we were amazingly comfortable in it.
Good thing. We broke out of the bush to see a Land Cruiser stopped at the bank of a river, its driver clearly thinking really hard about what to do next, and (justifiably!) a little nervous. Douglas got out and they exchanged information, then the Land Cruiser backed up and we swapped places.
The first thing I had noticed when we got in the Rover at the airport was a big pvc pipe sticking out the passenger side of the engine compartment that went up over the hood and then hooked downward. It's referred to as a "snorkel," and that's exactly what it is. There's no electricity required for a diesel engine to operate once it's started, so the engine itself can function when under water. But it needs air for combustion, and the normal air intake is down under the hood. That doesn't work if you're going to be wading through deep rivers; the snorkel is an extension of the air intake so the combustion air comes in from up above the roof. If that sucker get's flooded, the passengers are in need of snorkels also.
Douglas shifted to diff-lock-low and eased into the river. I started to stick my camera out the window and then thought better of it and rolled the window up. We had the top off, our usual mode of bush travel, so I stood up on my seat and shot from there.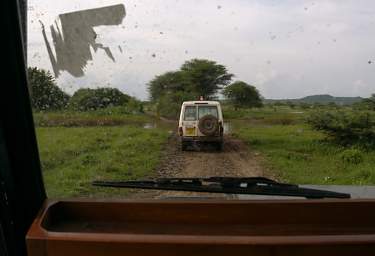 Uh - oh...
The Trusty Rover Goes Wading
This is what snorkels (black pvc in foreground) are for.
It wasn't as deep as it could have been; the water just splashed up on the hood a bit, and we didn't even get our feet wet. Notice the motorcyclist on the far bank as we are coming out. No clue how he was going to get across, or if he even did. Maybe he waited a day or two for the water to subside.
There was more water running alongside the road in places, brown with sediment as it eroded its way through the flatlands. Eventually we got a tad bit higher and into drier, sandier soils. As we did, the road pretty much disappeared, and we were following animal trails.
| | |
| --- | --- |
| | |
| Road After Rain | What Road? |
We entered a land with rocky outcrops and eventually worked our way around a particularly nice one and up onto its top, where we were delighted to meet up with Ole Maria and Lomnyaki and see our new camp.
And what a great camp it was! Our tent was nestled beneath two monster baobab trees, along with a shower and outhouse. My only suggestion would be to get rid of the roof and lower the sides on the outhouse and shower so we could enjoy the view, but I guess most people demand more privacy.
| | |
| --- | --- |
| | |
| Camp | Shower |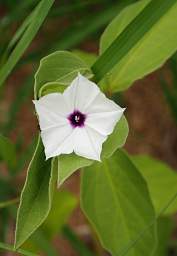 Flower Xxx White
There was a great slab of rock sloping gently up from camp, so we scampered over and up as soon as we could.
| | |
| --- | --- |
| | |
| Camp Rocks | Dona going up the Rocks |
The outcrop wasn't particularly high -- nothing in the whole area is very high once you get off the escarpment. But it was high enough to afford a great view, and it was a perfect place to sit and watch the world go by. The depressions in the rock were filled with water from the recent rains.
| | |
| --- | --- |
| | |
| View from the Rocks | Camp Area from Rocks |
Unfortunately it was pretty hazy, so we didn't get a spectacular sunset, but it was extremely pleasant none-the-less. It would be pretty easy to spend a lot of evenings up on those rocks.
| | |
| --- | --- |
| | |
| Sunset From Rocks | Sunset |
The mess tent was set up and we had a great dinner, then enjoyed talk around the campfire.
| | |
| --- | --- |
| | |
| Mess Tent | Campfire |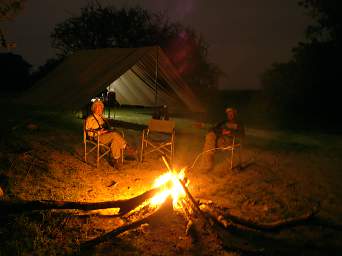 Campfire
The Hadza use baobab trees as a platform to hunt from, for its fruit, sometimes for honey, and as a source for water. Some of the big trees have depressions pockets where the trunk splits off into multiple branches, and those pockets fill with water after a rain. The pockets are shaded by the trunk, branches, and leaves, so the water doesn't evaporate as quickly as it might otherwise. The only problem is that those trees are so dang big around you can't easily climb them. So the Hadza bore holes in them and insert climbing pegs.
Baobab Pegs
Our camp was in the vicinity of a Hadza camp, and two Hadza men had come to camp to meet us -- Jackson, an older man, and Kijiji, a younger one, also known as "Malawi". We learned the Hadza greeting, "Hmtana". But maybe that is "Mtana." They sound about the same to my untrained ear.
The next morning we set off following our Hadza acquaintances, heading for their camp. Along the way they pointed out various plants and their uses to us. The "Kongorobi" is used to make bows and arrows, and has edible berries. The "Nguwirabe" has edible berries. "'ekwa" is a vine with a tuber root; by pounding the ground you can figure out where the tuber is -- if you know what you're doing. "Mtateako" is a bow.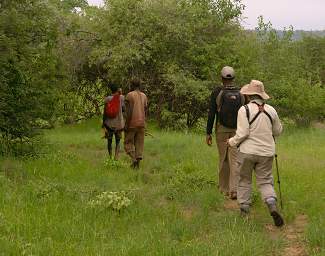 Setting Off with Kijiji and Jackson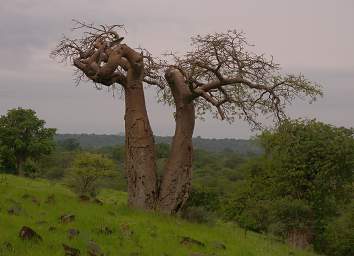 Baobab
Kongorobi
An unassuming shrub and
a source of
bows, arrow shafts
and food (berries)
Jackson and a Nguwirabe bush
(source of berries)
The Hadza don't use quivers;
Arrows are simply carried.
| | |
| --- | --- |
| | |
| Another source of bows and arrows | Jackson explaining use of a native shrub |
Note the way Kijiji's axe is carried,
simply balanced over the shoulder.
Jackson and Kijiji
There were a number of Greenbark trees, Warburgia Ugandensis, which have a pretty tough wood and also some medicinal properties. The Hadza were aware of it but I didn't write down what they used it for; maybe axe handles. Apparently before chillies were available the Greenbark was used to spice tea, and it is hot. I can't verify that; I'm a wuss and didn't try it.
| | |
| --- | --- |
| | |
| Green Bark Tree | Acacia tree with thorns pointing both ways |
We came upon some Ant Lion holes in the sand near a dry watercourse, so we found an ant and pushed it in over the rim. As soon as the sand in the depression by the hole was disturbed, the ant lion (actually, an ant lion larva) grabbed the ant and started pulling it down. We never did see the Ant Lion itself.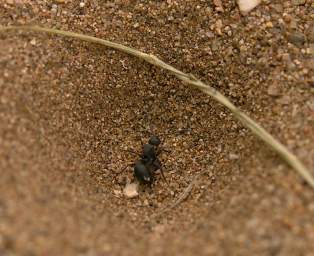 Ant Lion Prey
One of the more common mammals in these dry mixed grass and woodlands is the Dikdik, which the Hadza hunt quite a bit. Dikdik pellets are pretty small, somewhat smaller than an M&M.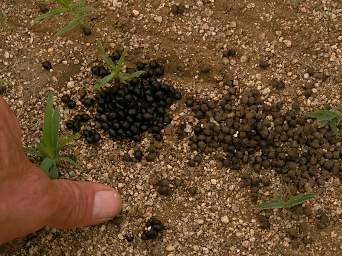 DikDik Poop
| | |
| --- | --- |
| | |
| Baobab Trunk Hole | Baobab Fruit Pod |
Eventually we arrived at the Hadza camp, which consisted of three or four structures made of grasses piled and fastened to a frame of small branches / sticks.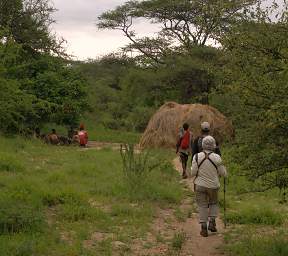 Arriving Hadza Camp
There was a mortar (flat, slightly dished rock) and pestle (fist-sized rock) which someone had been using the grind some kind of berry or nut, and a winnowing tool (piece of cardboard).
| | |
| --- | --- |
| | |
| Mortar and Pestle with Card for Winnowing | Hadza Women Kids |
I was intrigued by an axe which was lying on the ground, and asked what the writing on it meant. It turned out to belong to a man named "Mandia," who was one of the more cheerful people I've ever met.
| | |
| --- | --- |
| | |
| Mandia | and his Axe |
Mandia's wife, "Krishna," wanted to show us the inside of her house, so we went inside. It was dark and smelled of smoke; there was no smoke hole. It was about six or seven feet in diameter inside, with just enough room for us to sit opposite each other. But it seemed pretty snug, and I'm sure was a welcome place to be when it was cold and damp outside. Once they have gathered the materials for a house, it takes about two hours to build one.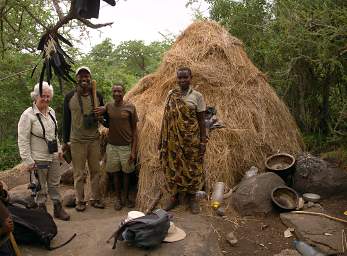 Krishna's House
Mandia had some of his arrows sitting nearby, and I asked him why one of them had the tip wrapped in something. It was because it was a poison arrow, and water will destroy the coating of poison.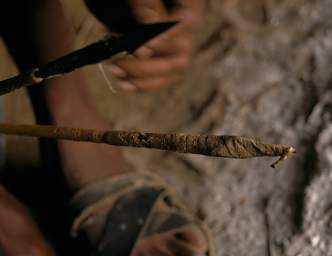 Mandia's arrows;
the wrapped one is poison
Krishna had a very pretty baobab gourd which was decorated with black cylinder-like beads made of porcupine quills, and white ones made from a kind of grass; the gourds are used to carry water.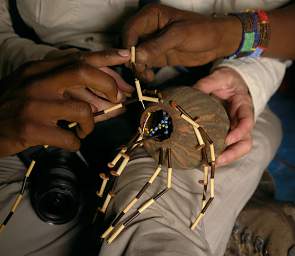 Baobab Gourd with Porcupine and Grass Adornment
Hanging outside from a handy tree was a bundle of feathers. I guessed these were just being stored for use on arrows, but maybe other purposes as well, since they were a different kind from the Guinea Fowl feathers we used later. I suspect the Hadza don't waste much of anything.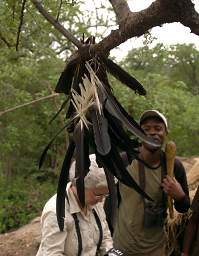 Fletching? Feathers
I saw some seeds sitting on a rock and asked Krisha what they were going to do with them, and she picked up a pestle (round rock) and showed us how she ground them to make a meal. She then showed us how they winnowed them to separate the meal from the shells using a piece of cardboard / stiff paper, sort of like the motion one would use when panning for gold.
| | | |
| --- | --- | --- |
| | | |
| Seeds To Be Ground | Mortar Pestle Seeds | Krishna with Seeds |
Many of the Hadza wore beadwork bracelets on their arms or legs. They were of fairly simple design; I've always liked beadwork for its bright, happy colors. The arrows carried by the Hadza were always of a great variety. They had different kinds of points; they never knew what they would run into, and used different points for different kinds of game. For birds they used a blunt point, dikdiks a small steel point or sharp hard wooden one, and larger animals required a large sturdy one. Bowstrings are usually made of giraffe sinnew, although the one pictured below was a man-made fiber picked up somewhere.
| | | |
| --- | --- | --- |
| | | |
| Mandia's Bracelet | Arrow Points | Bowstring |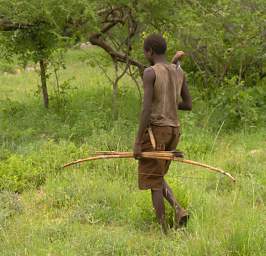 Most of this man's arrows have no steel arrowheads;
they are for birds and Dikdiks.
Each day the Hadza get up with an important question -- What will we eat today? They use no food preservation of any kind; what they eat on any given day is dependent on what they can forage or kill. After our introductions and general pleasantries at camp, they informed us they were going off to dig some roots (ekwa) for food. We headed off with them, women in the lead carrying their digging sticks. The men followed behind, each carrying his bow and arrows. Children were carried on a woman's back in a sling made from a large piece of cloth.
Off To Dig Roots (ekwa)
Hadza Child
Photo by Dona
Kid Backpack
We came to a place where some small bush-like trees were growing, and the women got down and in short order had excavated away the dirt down to the first roots. Then they continued to dig out around the roots, occasionally sharpening their sticks with one of the men's axes. The roots pretty much looked like ... tree roots. The part they were after was a fatter section of the root, and when dug free they would hack it off with an axe or cut it free with a knife. Dona asked if this would kill the tree, but they explained they left enough roots for the tree to continue to grow. I forgot to ask them or observe whether they backfilled the dug-out area when they were done or not. Dona and I pitched in to see what it was like. It didn't seem particularly difficult, but then we weren't doing it every day as a necessary task.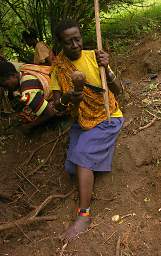 Sharpening Digging Stick
| | | |
| --- | --- | --- |
| | | |
| Roots | Cutting Off Roots | Cutting Off Roots |
| | |
| --- | --- |
| | |
| Dona Digging | Dona with Root |
At some point I noticed this was a classic. All the women down on their knees working, and the men sitting back on their haunches holding their bows and arrows, talking and smoking. We all have to rest at times, but it seems women the world over rest less. They usually have some other "hand task" that can be worked at while they are "resting," so we seldom see them just relaxing. Maybe it would help if more men wove fishing nets... or whittled, or carved... or knitted.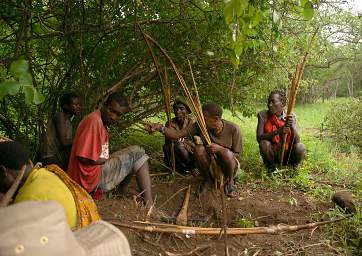 A Classic ... Men Watching Women Work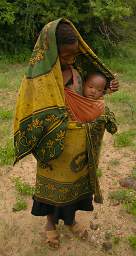 Mom with Kid
Somewhere in there while we were getting the roots extracted, a bird flew by. It turned out to be a honeyguide, a bird which can digest beeswax in addition to its normal insect prey. They sometimes fly to a tree containing honey-bees, and in a symbiotic relationship with the associated human or other mammal, wait until the human or mammal break open the nest and then feed on at least some of the wax left over after the mammal has gorged on it.
So when the bird flew by, a couple of the Hadza men jumped up and were off, following it by eyesight. Ten or so minutes later, they were back, saying they had located a honey tree. Dona and I were amazed. I've never been able to follow a bird anywhere. This was a somewhat broken up landscape and not dense forest so that made it a bit easier, but I was still impressed.
All the men were up in an instead, trouping after the two who had located the honey tree. We followed eagerly along, but the women stayed behind and continued with their root digging.
I don't know what kind of tree the honey tree was, but it looked like at least two trees which had grown close together and entwined their trunks. The bees had formed a hive up in the rotted interior of one of them, entering through the knot where a branch had broken off.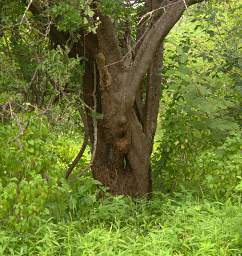 Honey Tree
The men immediately went into action to start a fire. Out of somewhere came a stick about the size and length of an arrow shaft and some tender material; I don't know if the tender is something they carry with them in general, or if it was picked up along the way to the honey tree. The stick was either made of a wood called "gravia" or the firestick itself was referred to as "gravia." The self-appointed fire-starter quickly located a fatter stick off the ground, a commiphora, to use as the fireboard, notched it, and began twirling the drill stick between his palms, putting gentle downward pressure on the stick as he did so. Others scrounged around for smaller sticks. Two men traded off on the drill and in less than a minute there was smoke rising. A knife was slid under the fireboard to catch the hot coals generated from the twirling, which were then transferred to the center of the bundle of tender. For tender the Hadza use dried grass and/or zebra, warthog, or elephant poop. Mandia blew the embers into a flame, and the bundle was transferred to a pile of sticks at the base of the honey tree. In short order there was a fire going. After the fire was built up the men laid a few green twigs and leaves on it to make a smoke bundle.
Mandia chopped a larger hole at the bee entrance, and then shoved the smoke bundle into it to quiet the bees. Then he reached up inside and started extracting honey-comb, which was handed around. Yum! We just plopped comb and honey in our mouths and chewed. I don't think my body digests wax very well, so in the end I spit out some well-masticated comb, perhaps something the honeyguide bird would appreciate.
I should note that despite this being a semi-desert climate, it was drizzling at the time, which seemed to have no effect whatsoever on the efficiency of the operation.
Notching Fireboard
Note tender and fire drill stick on ground.
Twirling Drill
Team Twirling
| | |
| --- | --- |
| | |
| Embers On Knife | Mandia Blowing Ember To Flame |
| | | |
| --- | --- | --- |
| | | |
| Carrying Fire To Tree | Fire At Base Of Tree | Building Fire Up |
| | | |
| --- | --- | --- |
| | | |
| Chopping Out Entry | Smoking The Bees | Gaining Access To Honey |
| | | |
| --- | --- | --- |
| | | |
| Retrieving Honeycomb | Chowing Down On Honey | Honeycomb |
While the men and we were standing around enjoying the honey, Dona asked Douglas if they would bring some back to the women. Douglas passed the question on, then smiled as he relayed the answer -- "They said 'No, there isn't enough; it's ok, the women will understand.'" Right. You get the roots, we get the honey. This was not the most egalitarian society ever invented, but the Hadza seemed to be pretty happy in general, women included.
We didn't eat all the honeycomb, although it's not clear how much was left. Maybe quite a bit, further up the inside of the tree beyond Mandia's reach. Sometimes the honey is inside a large baobab tree, which itself has a large cavity inside. In those cases they crawl inside and climb up to where the honey is, taking a smoke brand with them. It makes me cough and my eyes water just thinking about it.
After our feast on honey, we headed back to where the women were digging roots. They had their own fire started and were roasting the roots over it, warming their hands, and drying out clothes from the rain. When the roots were deemed done they were sliced up and distributed around. They had a very mild flavor, were very much ... chewable, and I'm not sure I would want them every day for breakfast. The juice extracted from chewing was fine, but like the honeycomb, I'm not sure my body would do much with the pulp. The Hadza weren't swallowing all the pulp either.
| | | |
| --- | --- | --- |
| | | |
| Roasting Roots | Warming Up | Drying Out |
While standing around in the drizzle eating the ekwa, Douglas asked the Hadza about a song he remembered them singing once. He got enough of the tune right that they remembered what it was and took it up. We asked them when was the best time of year, and they said April, because that was when there were lots of ripe fruits to eat.
A friend of Daudi Peterson's named Jeff is a researcher studying Hadza poop to learn more about their diet. They've have nicknamed him "Ichia" which, you guessed it, means poop.
| | |
| --- | --- |
| | |
| Cutting Up Root | Gary Eating Roots (ekwa) |
It was time to head back to our camp. Someone said we should take a group photo, so I propped up my camera, set the self timer, and hustled back to be in the photo. I knelt down and took off my hat so it wasn't shadowing my face, and a giggle went up in the crowd. The Hadza all have hair, and my bald top was apparently pretty amusing.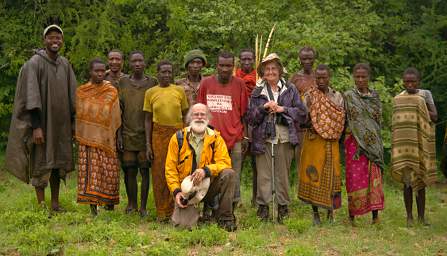 Hadza Group
We said good-by and hiked back following Kijiji, Jackson and Mandia. Along the way, Kijiji stopped several times to cut stalks from suitable small trees / shrubs to be used as arrow shafts. He never cut more than one shaft from one tree. After obtaining the branch, he trimmed off and discarded the end and the butt.
| | | |
| --- | --- | --- |
| | | |
| Cutting Arrow Shaft | Gauging Shaft Length | Cutting To Length |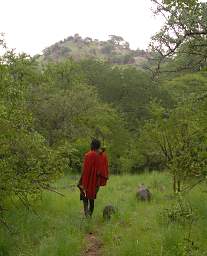 Approaching the hill where we were camped
Our Hadza guides were staying for dinner and overnight, one of the benefits of showing us some of their life. Somewhat later, after we had arrived back in camp, another Hadza showed up with a good-sized chunk of meat on a stick -- giraffe. Since the Hadza do no food preservation -- no dried meat, no pemmican, and obviously no freezing or canning, when a large animal like a giraffe is killed, there is more meat than the immediate band can consume. Rather than let it go to waste, they inform the neighbors and everyone shows up for a feast. I asked if I could taste some when the time came and they said yes, but somehow we weren't around when the time came.
In the afternoon our Hadza guides filled up a large jug with water from the pockets in the rock. They looked at the water pretty carefully before dipping it into the jug, but when I checked it out I said to myself "I'm sure glad I have a water filter." I didn't mind the leaves and dirt and seeds, but it looked like there were unmentionables in there as well. Little by little the Hadza pick up more modern stuff, but they also discard much of it; it's just more stuff to carry when they move around, and not worth dragging along.
The word for "giraffe" in Hadza is something like "Tsokwanaa," with the first syllable made as a clicking sound. The clicking sound is called "gnokwa"; or at least that's what I wrote down, but I can't find any references to that. The Hadza are probably the oldest people on earth, and no other people is really very closely related to them. There are fewer than 1,000 of them left, with fewer than half that number still following a hunter-gather lifestyle. It was once thought that they were somewhat related to the Bushmen of the Kalahari, but genetic sequencing has shown they are probably more closely related to Pygmies.
| | |
| --- | --- |
| | |
| Giraffe Meat | Filling Water Jug |
We had some mid-day time to rest up, and I enjoyed sitting on the rocks trying to identify birds while Dona napped.
| | |
| --- | --- |
| | |
| View From Rocks | Cinnamon Breasted Rock Bunting |
Ashy Starling
Xxx
Douglas, what is this?
The red eye doesn't match up with anything...
| | |
| --- | --- |
| | |
| Top Of Rocks | Mess Tent Camp |
I wanted to see how the Hadza made their arrows. In the afternoon, the Hadza who were with us in our camp started a small fire and sat down around it to start making arrows. Mandia started work on a point, pounding out a nail to shape it. While he was doing that they laid the sticks to be used for shafts over the fire to soften them for straightening. These were the large construction nails we had purchased back in Babati some days ago. They are pounded out to make an arrow point at each end, pounded to a thinner, longer shank in the middle, and then cut in the middle to yield two separate points. The tools used for this are a heavy hammer and a broken cold-chisel; the hammer for pounding, and the cold-chisel for trimming the flattened point to the right shape and curring the two points apart.
Mandia Pounding Out an Arrowhead
Jackson Watching
Photo by Dona
Pounding a Nail into Two Arrowheads
Gary Getting Lessons
Photo by Dona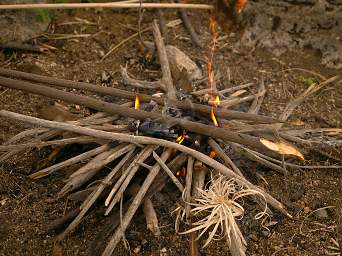 Softening Shafts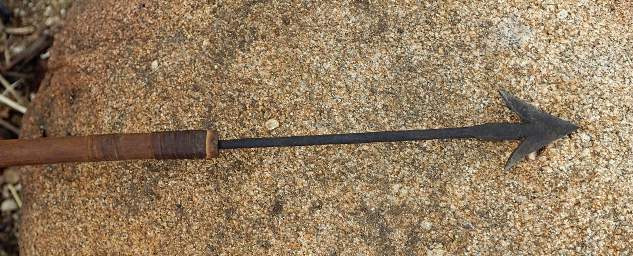 Arrowhead (Not the one we were working on)
Photo by Dona
I noticed some rocks in a pile near the fire which were clearly gathered for some purpose. Turns out the Hadza like to gamble, and the stones were gambling pieces. The game is called "mama". There is one big stone, and each person has their own smaller stone. One side of the stones is marked. The big stone is tossed on the ground, and it lands with either the marked or the unmarked side up. Then everyone tosses their stones on the ground. Whoever's stone matches mama's, wins. I guess if more than one person wins you keep going until only one is left. I asked what all they gambled with, and they said anything. The last thing to be gambled away is their bow. Gambling away your bow is a very big deal, and they chuckled as they talked about one of them doing that.
Hadza Gambling Pieces
Photos by Dona
It turned out that our Hadza group's cold chisel had a nick in it and was pretty dull. They worked a bit at sharpening it on a stone but decided it was going to take too long. They said there was another one at a different Hadza camp that wasn't too far away. So we piled our arrows-in-waiting sticks into the Rover, Mandia and our Hadza dikdik expert whose name we didn't get climbed up on top with their bows (you never know what you might run into along the way), and we headed off.
Chipped Cold Chisel
Photo by Dona
Sharpening Cold Chisel
Photo by Dona
Changing Camps
Photo by Dona
In Search Of Cold Chisel
or anything that's moving along the way...
After a bit we parked and headed off on another hike, after which we arrived at another Hadza camp. Douglas was unfamiliar with most of the people there, although I think he knew one of them.
Butterfly Xxx Yellow
Flower Xxx White
Photo by Dona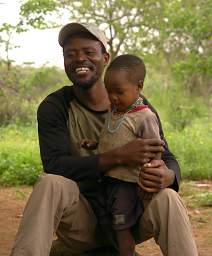 Douglas with Hadza Girl
After introductions we got down to serious arrow making. The men started by softening the sticks to be used for shafts over the fire, then shaved off their bark and tapered them as desired. While doing this, they held the shaft between the tows of one foot.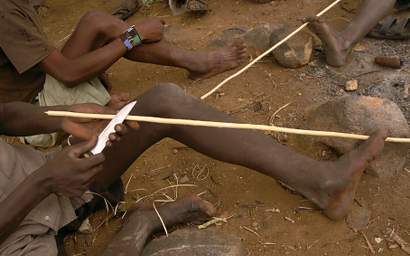 Shaving Shafts
Shaving Shafts
Dona Shaving Arrow Shaft
Gary Shaving Arrow Shaft
Photo by Dona
The shafts are checked for straightness, and any kinks are worked out by softening the shaft over the fire, biteing it to weaken the shaft at that point, and then bending it with the hands.
Softening Shaft
Straightening Shaft
Gary Straightening Arrow Shaft
Photo by Dona
While some were making shafts, Mandia was working on his points. He flattened both ends of the nail, then thinned out the middle section between them, and then separated the two points by cutting in the middle with the cold chisel.
He sharpened the cold chisel on a rock and then cut the flattened end to the arrowhead shape he wanted, pounding it out a bit more and recutting it as needed to get a fine, sharp edge. Double-barbed points are referred to as female, and a single-barbed ones as male. The opposite end from the point is sharpened like a pin with no blade, so it can serve as a drill to seat the point in the end of the arrow shaft.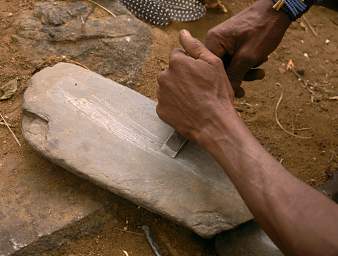 Sharpening Cold Chisel
Separating Points
Axe head has been removed from handle
for use as anvil.
Note Guinea Fowl Feathers (lower left) for Fletching
Photo by Dona
Cutting Point Shape
| | |
| --- | --- |
| | |
| Cutting Female Point | Cutting Male Point |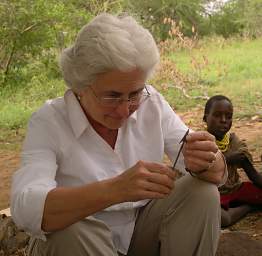 Dona Examining Point
The arrow shaft is cut off squarely with a knife, then the nock is cut for the bowstring. If left like that, the arrow would relatively easily split from the pressure of the bowstring, so sinew is wrapped around the shaft to prevent splitting. In wrapping the sinew, no knots are used. It is moistened with saliva and simply wound on; it shrinks as it dries to make a tight wrap, and apparently it sticks to itself well enough to last. I would have thought a clove hitch would be appropriate, but they just wound it on clear to the end without laying it under itself.
For bows, instead of wrapping with sinew a ring of leg hide is cut off, soaked so it is soft and stretchable, then slid over the bow and allowed to dry and shrink.
| | |
| --- | --- |
| | |
| Cutting Nock | Wrapping Nock |
Guinea Fowl feathers are used for fletching. Four feathers are fastened with sinew by their tips just past the nock, ninety degrees apart. The sinew is wound down the shaft an appropriate distance, the feathers are measured and stripped of extra web, and then the feathers are bent down along the shaft and their butts fastened with the remaining sinew and the excess cut off. The butts of the feathers are moistened with saliva before laying down on the shaft; I don't know if this makes them stay in place better by adhereing to the sinew better, or if it allows the sinew to compress them better and therefore it is harder for them to come loose. In any case, it is a great, very workman-like job when it's done.
| | | | |
| --- | --- | --- | --- |
| | | | |
| Starting Fletching | | Photo by Dona | Photo by Dona |
The fellow who was working on "my" arrow then spun the arrow between his hand and his thigh while scoring the arrowhead end with a knife, creating a nice pattern as a decoration.
Personalizing Arrow Using
a Genuine "Hand Lathe"
Photo by Dona
Decorating Tip
The metal point is seated into the end of the shaft by twirling the shaft while applying downward pressure. It's the same motion used to twirl the drill when starting a fire. The non-point end of the arrowhead was drawn out to a crude, not-too-sharp point so it could drill its way into the shaft when the shaft is twirled. Exactly how or why it stays in the center of the shaft is beyond me; I suspect one of the things the Hadza have learned is that good arrow shaft trees have shoots with centers softer than their outer wood. Once the point is seated, sinew is wrapped around it to bind it and prevent the end from splitting.
Seating Point
Seating Point
Photo by Dona
Final Straightening
Checking Straightness
This young man was the dikdik expert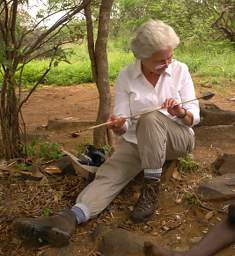 Dona Checking Out Her Arrow
With the arrow making complete, we set up a target for the men to show us their skills. Douglas got them all pretty excited by offering some prize money, which he made sure they understood was to be shared amongst everyone. Some of them got pretty serious about it, and all enjoyed it.
The Fellow on the Left was Serious
Then Dona and I tried our hands at it. Dona's mentor clearly enjoyed helping her out; it was good to see that big smile. I hadn't shot a bow since I was about sixteen, and it was difficult to pull. I came close, but didn't actually hit the target; no dikdik for dinner for me...
Gary Shooting
Photos by Dona
Photo by Dona
Archery Competition
And the winner was...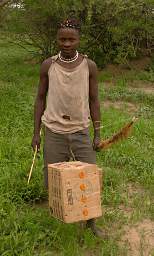 ... the DikDik Specialist
We asked the Hadza if they worried about any animals in particular, and without much hesitation Mandia said the elephant. Then said good-bye and headed back to our own camp.
In one of the dry streambeds we crossed I noticed a depression a foot or so deep which had been dug. The Hadza dig down to water and then use a home-made straw to drink it. The straw is made from the "Tsatsamukwako" tree. They twist the bark to loosen it, then cut off a section and remove the center wood. Douglas told us that elephants do the same thing; he has seen them paw and dig a depression near a water-hole, then wait for it to fill up and drink that water instead of drinking out of the water-hole.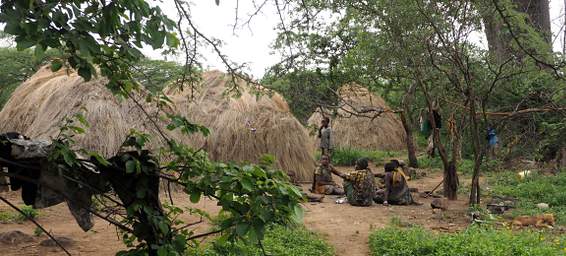 Hadza Camp
Photo by Dona
That evening we all gathered on the big rock overlooking the valley and passed questions back and forth. We had a pretty wide-ranging discussion.
We asked them how people got their names; were they given by the parents and that name stuck forever, or did they choose their own names at some point? I don't remember the answer to this one very well, but I think you pretty much kept the name you were given at birth, although people did "earn" nicknames, in the same way we "earn" them.
We asked them whether a Hadza man could have more than one wife, and they said that was ok. So then I asked them if a Hadza woman could have more than one husband, and they thought that was an absurd idea and didn't happen. The notion of divorce was I think a no-brainer; they just split up when things weren't going right.
I asked them how they dealt with someone who was lazy, or just didn't do their fair share of the work. For example, a man who was physically able to hunt but never worked very hard at it. They said they applied various kinds of social pressure, and then would deny that person sharing in some food. For example, giraffe is a real treat, and the person might not get to share in the giraffe feast.
I asked what was one of the worst things a Hadza person could do, and what happened if someone did that. They thought for a while and then one of them said to kill someone. I don't remember what the consequences of that was.
We asked them what happens when someone gets to old to travel with them when it comes time to move camp. The older woman in the group indicated that then they didn't move camp. They stayed to provide for that person. I didn't pursue it further to ask how long that might be, and what was the longest time she could remember having stayed in one place until someone died. But that got us to the notion of death, and we asked what they did with the body when someone died. They said the person was covered with rocks. So then they asked us what we did when people got old. We explained that sometimes a son or daughter would move them into their house to care for them, and that sometimes a child would move to be closer to the elder to help them, as Dona had done. Then we explained that we had "communities" where older people could go to live where people took care of them. They thought that was a particularly bad idea, and that it was important for the rest of the family to take care of older people. We told them how some people were buried, and how others were creamated. Creamation made sense to them, and they understood spreading ashes someplace, but when we told them how sometimes the ashes were kept in a container of some kind more or less forever they found that a pretty crazy idea.
When Dona and I were sitting around our campfire, the Hadza asked if they could come and join us. We had more questions and answere, told some stories, and did some singing. One of the younger Hadza had "his own modern song" which he sung for us, which seemed like kind of a Hadza rap song, with lots of tongue clicks. It was pretty darn good.
One of the things I wish I had asked the Hadza about is how they view their relationship with the more modern world. We did talk a little about that indirectly, when some of them told of going to other places but then coming back because they preferred life in the bush. But the arrival of tourists like us inevitably brings them more modern "things," with the result that many Hadza no longer live as hunter-gatherers. They currently benefit some from the tourist trade, but as they become more modern, fewer tourists will visit, and that support stream will be lost. This is one of the reasons Dorobo cautions against bringing gifts other than the nails and salt which we did. They are trying very hard to help the Hadza maintain their traditional way of life.
Rock Gathering
Rock Gathering
I loved sitting on top of the rocks in the morning watching the world come alive. There were birds calling everywhere.
| | |
| --- | --- |
| | |
| Rocks | Camp From Rocks |
Morning from the Rocks
Gary Watching the World Go By
Photo by Dona
Looking for Anything that Moves
Photos by Dona
What's to see?
Hyrax
Photo by Dona
Vervet Monkey
Photo by Dona
| | |
| --- | --- |
| | |
| Dona on the Rocks in the Morning | Morning Rocks |
Then it was time to pack up and move on.
Mess Tent
Photo by Dona
It was breakfast time,
but people waited for us to start.
I hope my tendancy to explore in the morning
we didn't keep anyone waiting.
Photo by Dona
But there was one thing I hadn't done which I wanted to do, and that was climb up into one of the big baobabs. The only way to do that was to use some of the pegs the Hadza had put in. There was a nice big tree near camp so I started up it. I understood that one of the hazards of using the pegs was that they could rot out and not be reliable, so I tested them as I went up. One was totally rotten; no big surprise there. But when I pulled it out of its hole a whole colony of ants swarmed out, and I quickly worked my way to the side to other pegs so as not to be overrun with ants while part way up the tree. Once up, my earlier notion was totally reinforced -- this would be a great place for a tree house!
Gary Climbing Up into a Baobab
Photos by Dona
Ole Maria Breaking Camp;
View from a Baobab
We said good-bye to the Hadza who had spent the night with us, and to Lomnyaki and Ole Maria, and started winding our way out and up to the NgoroNgoro Crater.
The Yaeda Valley
Photo Collections:
---